Fiber laser machine up to 12kW!
The Kimla brand markets a range of high-performance, high-precision fiber laser machines. These laser cutting machines are equipped with IPG fiber laser sources available from 1 to 12 kW.
With over 21 years' experience in developing cutting-edge solutions for the machine tool market, Kimla offers a complete range of fiber laser machines for applications on sheet metal, tubes and tube/sheet metal combinations.
Thanks to the latest-generation fiber technology, the machine offers very attractive energy savings, both in terms of gas and electricity. Last but not least, maintenance costs are considerably reduced thanks to a range of spare parts not required on fiber laser cutting machines.
Our video at the bottom of the page shows the Kimla fiber laser machines in full production. You'll clearly see laser machines combining cutting speed and precision!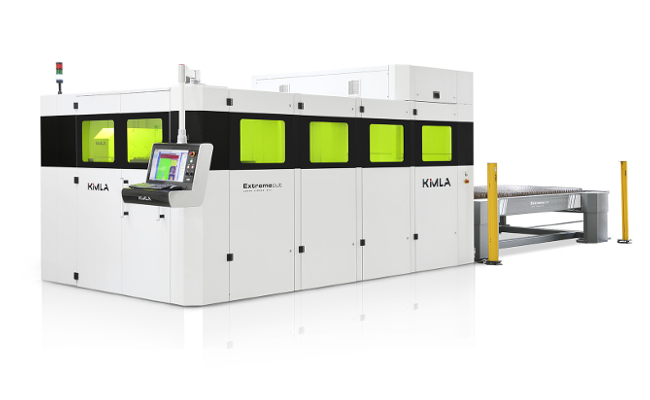 A range of fiber laser machines to meet the needs of manufacturers
Kimla offers a complete range of high-quality fiber laser machines for a variety of applications. Their fiber lasers for sheet metal cutting deliver exceptional precision and speed, enabling impeccable results even in the most demanding materials. For tube cutting, Kimla offers specialized machines that guarantee precise, efficient results, whatever the tube diameter. What's more, their range of combined tube/sheet lasers offers optimum versatility, enabling you to manage your complex projects efficiently. Whether you're in the automotive, aerospace, metallurgy or any other industry requiring precise laser cutting, Kimla has the fiber laser machine to suit your needs.
All models have in common the use of the best components on the market: Beckoff CNC and axis drives, IPG fibre laser source, Renishaw optical rulers or Rampf polymer concrete frames...
Rely on Kimla's cutting-edge technology to optimize your productivity and reach new heights in terms of cutting quality.
The advantages of the new Kimla cutting head
Originally, Kimla machines were equipped with a High-Yag cutting head from the renowned German II-VI brand. With technological advances, our fiber laser machines are now equipped with the new cutting head, capable of using the beam of the most powerful machines. This head, developed in-house, is the fruit of many years of R&D investment. Innovation has always been at the heart of the brand's strategy!
Here are the advantages of this laser cutting head: 
4x less sensitive to dust;
Change of protection windows 10x less frequent;
Possibility of maintenance on production site;
Lower maintenance costs;
Improved drilling speed;
Possibility of cutting sheets up to 60mm thick;
Automatic change of thecutting nozzle as an option;
Automatic nozzle centering;
Control of the nozzle's condition by means of a camera.
Customized work areas for your fiber laser machine
In addition to innovation, the Kimla brand stands for flexibility and constant adaptation to the needs of its industrial customers. In the face of competition, we know that it's vital for our customers to get the best out of their metal machining operations. To achieve this, they may need to expand or contract the working area of their fiber laser machine. 
To meet these expectations, we can now offer cutting tables up to 12 meters long and 3 meters wide. But that's not all: Kimla is also one of the only manufacturers in Europe to offer cutting tables 2 meters long by 1 meter wide! An ideal design for manufacturers with limited floor space.
A third cutting table available as an option
As you'll have gathered, our fiber laser machines are available in a variety of technical configurations, including laser power, work area dimensions and laser specifications. But that's not all: in addition to these aspects, Kimla offers options that you won't find on many of our competitors. These include the possibility of adding a third laser cutting table as an option when purchasing your machine.
Of course, we also supply a high-performance software and control system, with high operating speeds, positioning accuracy, increased efficiency and a 24-month warranty.
Are you hesitating between buying a second-hand fibre or CO2 machine for your company?
We have written an article on our blog to help you understand how to choose your laser cutting machine. If you'd like to see a Kimla fiber machine in operation, please don't hesitate to contact us. Several machines are already in production in France.
Finally, in order to meet the demands of all our customers where the budget can be reduced, we have launched our used laser cutting machine service. These machines are ideal to start a cutting activity.